Logical Designs is one of few Mega-Corporations operating in Persia and Astara. The company is owned by Delta_Who and Celestical who both co-run the company. Initially an Architectural Firm, Logical Designs has expanded its reach.
The main divisions of Logical are
-Logical Architecture - A company designed in commisioning and controlling real estate in Persia and Astara. Logical HQ currently holds major assests in Bayview, Shiraz and Noragi.
-Stratton Aerospace - Logical currently owns a 50% stake share in Stratton air. Stratton Air is legally the sole provider of Commercial and Private Aircraft in NSP and Astara and currently controls all of Freaks assests.
-Third Rail Engineering - Logicals sub-company invests in providing rail transportation assessts to the NSP goverment.
-Logical Cruise Line - Logical's newest sub-company, which provides excellent vacations...
Stratton Aerospace is one of the most known company. Stratton Aerospace owns "Agony Field", an airfield where the newly created planes are built and tested. Agony Field also has parking spaces, where you can park your planes.
Stratton Aerospace currently owns an office building in NSP - Swan Tower, which is home to mainly Stratton Aerospace, and floors may be leased out. On ground level, you may rent out shop spaces, as well.
If interested in renting shop space or office space, Delta or Celestical is whom you should talk to.
If you wish to buy planes from Stratton Aerospace, you will need to travel to Agony Field. There, you will be guided by our salesmen, which will guide you through Agony Field showing all the planes available. Purchases will be made to Celestical.
To view planes Stratton Aerospace offers, click below.
Logical's own cruise line, which is also the newest sub-company to Logical. 
Logical Cruise Line will surely provide you with an excellent vacation.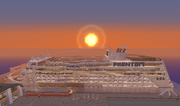 Beam : 35m                Decks : 8                 Staterooms : TBA
Lenght : 202m             Outdoor Pools : 2        Crew : TBA
Height : TBA               Whirlpools : 4
The Logical Phantom's maiden voyage around all of Persia and Astara has been successfully completed, and is docked back in it's homeport of Shiraz, Persia.
A contract has been signed to deliver a "Platinum" series cruise ship, which is a luxury ocean liner with amazing ammenities and lots of things to do on board.
Community content is available under
CC-BY-SA
unless otherwise noted.